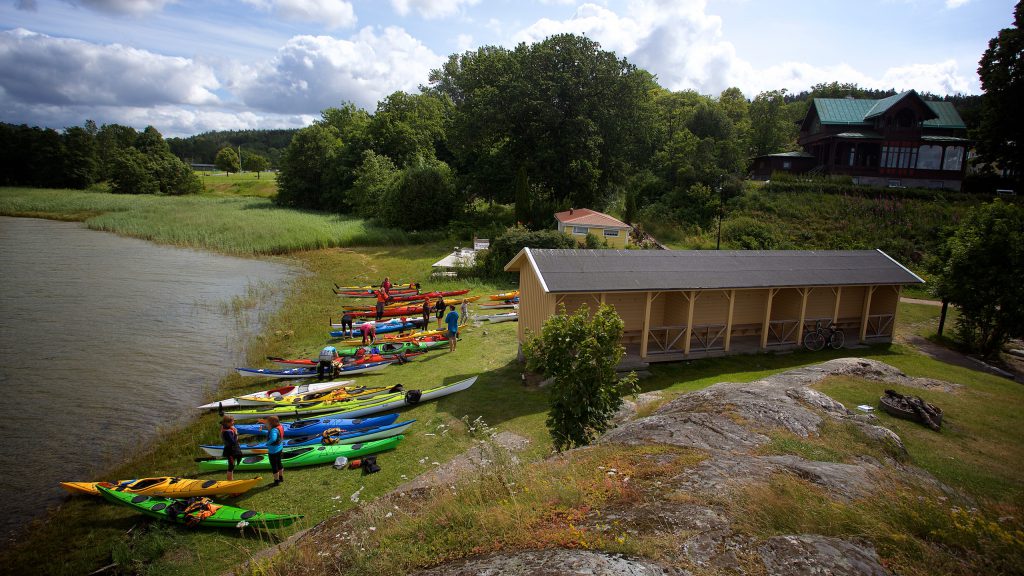 Sea Kayak Camp – Foundation
3 Day West Sweden Sea Kayak Camp
Enjoy three fantastic days of sea kayaking in Bohuslän, West Sweden, a true sea kayaking paradise. In your Foundation package is included one day of coaching and two guided day tours to different areas. Also included is great seaside accommodation in historic and charming Gustafsberg, Sweden's first seaside resort, as well as breakfast and lunch for three days. Just come, paddle, learn and enjoy.
Your accommodation is right on the waterfront in historic and charming Gustafsberg, considered Sweden's first seaside resort. You have a choice of hostel accommodation, staying in rooms with communal bathrooms, or in basic, but charming hotel style accommodation in double rooms with en suite bathroom. Your three nights accommodation for the Foundation camp is Monday to Thursday.
Breakfast and lunch for your three days is included in your Foundation Camp. Breakfast is eaten with sea views in the communal kitchen house, and lunch is eaten outdoors during our tours or course. Right next to your hotel is a great dinner option at Restaurant Snäckan, and another one is a 10 minute walk to Restaurant Villa Lindesnäs. Both with great sea views. Another option is to make your own dinner in the communal kitchen.
Check in for our Sea Kayak Camp Foundation is always on a Monday. Activities start on Tuesday. Choose between the following start (check-in) dates 2023:
May: 29
June: 5, 12, 19, 26
July: 3, 10, 17, 24, 31
August: 7, 14, 21, 28
September: 4
8.000 SEK (hostel accommodation)
8.500 SEK (hotel accommodation)
Click the BOOK-button and fill in the booking form. Please note that we need to check availability for your booking. Invoice and a payment request will arrive by e-mail. When payment has reached us your booking will become definite. If you have any questions don't hesitate to contact us.