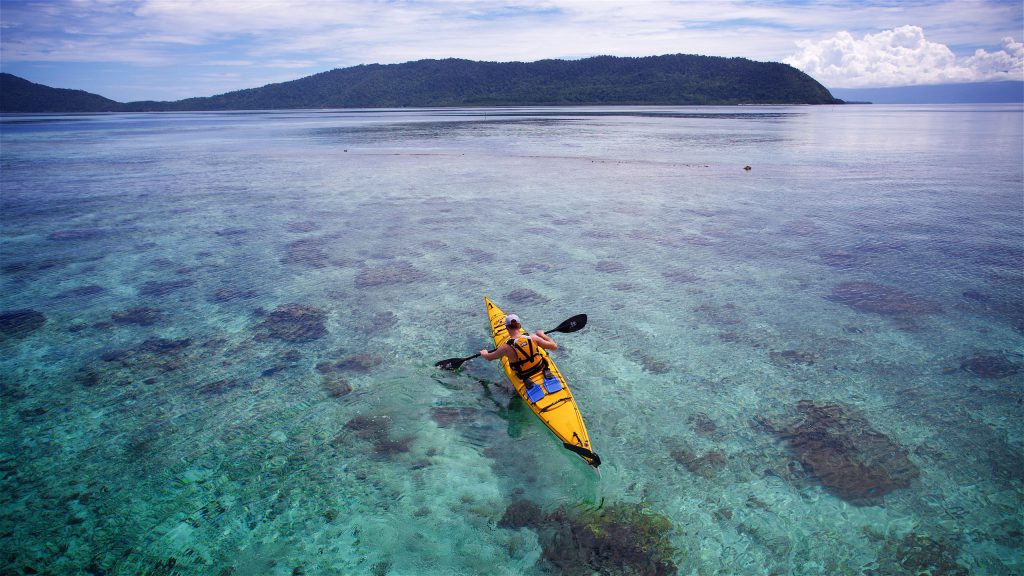 Sea kayaking in Indonesia
Unforgettable sea kayaking and snorkeling in Raja Ampat
Join us for an unforgettable 11-day adventure, with 9 days of sea kayaking and snorkeling in Raja Ampat, a tropical archipelago not looking like anything else. Over fifteen hundred islands of densely grown limestone, where the eroded tidal zone makes the islands look like mushrooms. Or as if they hover freely, just a little bit above the sea surface. It's an Avatar landscape in reality. Here the marine life also is more thriving than anywhere else on the planet. In Raja Ampat there are blue whales, pygmy sea horses, manatees, walking epaulette sharks, giant manta rays and whale sharks. And lots of other species.
Underneath the hull of our kayaks there are three thousand fish species and 80% of the world's known coral species. During breaks from kayaking we land on beaches along the way, put mask and fins on, wade out into the blue, take a few swim strokes, and have a greater variety of underwater species in our field of view than in the whole of the Mediterranean. An absolutely amazing area that we are convinced you will have memories from for the rest of your life.
At the end of every paddle day we aim for the sparsely distributed traditional Paupuan guesthouses (homestays) situated on vanilla-colored beaches, or tucked up against the dense vegetation, offering a home for the night with local families receiving us with great hospitality. As an extra spice of adventure we will pitch our tents one night and and camp on a beach along the way.
The journey begins in the town of Sorong in northwestern Papua, from where we catch a boat to Raja Ampat and the start of the kayaking. Your arrange your own flights to Sorong. It gives you flexibility to decide if you would like to arrive earlier or stay longer. We will meet you in Sorong on the first day of the tour. If you need help and / or advice about your flight, you are more than welcome to contact us, of course.
Dates for 2023 will be published shortly.
Click book and check available dates in the calendar! See You!