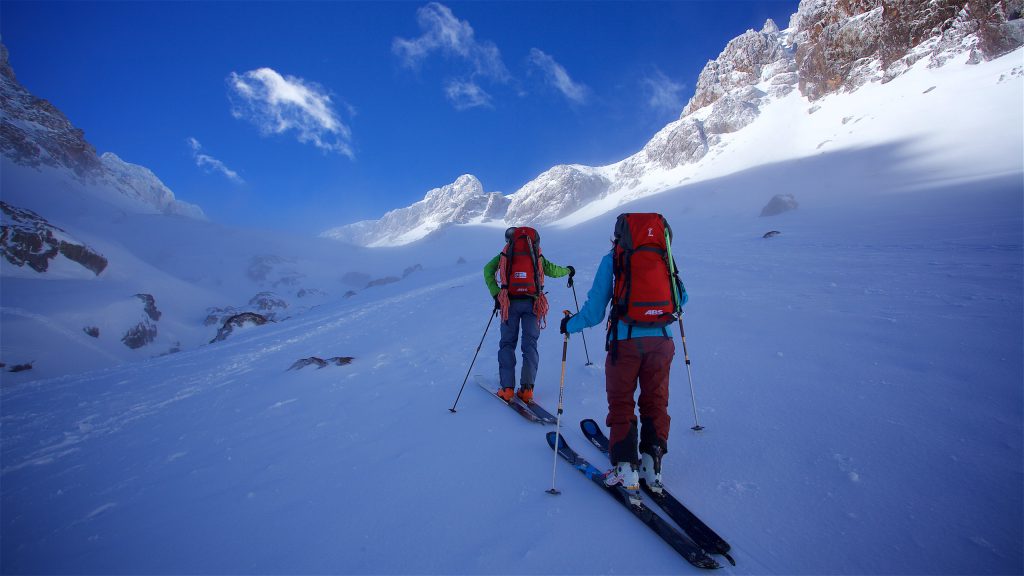 Alpine ski touring in Morocco
African snow in the Atlas mountains
Alpine ski touring in the Atlas Mountains in Morocco is a wonderful combination of magnificent mountain scenery, amazing, odd ski adventures and fascinating travel experience. We start and finish in the unrivaled old trading town of Marrakech, as with its winding alleyways in the old medina is an exotic travel experience to remember for a long time. From Marrakech we head up to the Atlas Mountains, to the small village of Imlil, where we load our skiing equipment on mules and hike up to the mountains to Refuge Les Mouflons, which is the base camp for our days of ski touring.
We spend five days in the mountains and make trips to some of the highest peaks in North Africa, such as Ouanoukrim, Timezguida, Akella and others. One of the days we attempt to climb the highest peak, Jebel Toubkal, 4,167 meters above sea level. Amazing views of the surrounding mountains and the desert below make the trip a very special experience.
We are guided by Oskar Brodén, ski touring guide and avalanche technician in Åre in winter time and kayaking and climbing guide at Upplevelsebolaget during summer. In addition to fantastic nature and skiing experiences, you will learn a lot about skiing, ski touring, snow, avalanches and staying safe in the mountains. We do not believe in "equipment hour" or "avalanche safety hour", we believe in making sure you feel cared for and welcome as a guest throughout your stay, and that your entire time together with us will be full of inspiring learning and a memorable experience.
We are happy to introduce new dates for 2022.
Click book and check available dates in the calendar! See You!