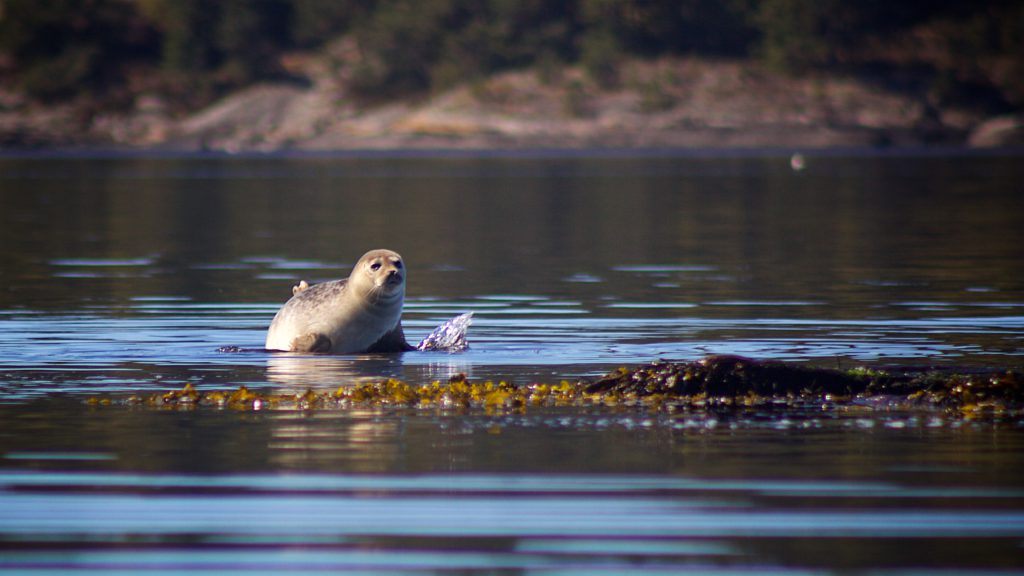 Seal spotting from the cockpit
To meet free animals in their natural habitat is always a great experience. From the cockpit of a kayak it's unforgettable. We set out on a peaceful journey to the seals' home. We do our best to locate some of the approximately 12 000 harbor seals that live along the Bohuslän coast.
In Havstensfjord the water is often calm. The fjord is protected from westerly winds by Orust and we can usually quietly slide around and look for the fjord's natural inhabitants. The chances of getting company from the fjord's seal colony is good. We help each other to look out for heads emerging near the kayaks curiously peering at us. But who is actually checking out who?
Havstensfjord is also Sweden's eider densest area, partly thanks to the blue mussel farms evenly spread out on the water, offering a favorite buffet of food for the birds. With a decent portion of good luck we can also spot a white tailed sea eagle circling in the sky above. What is definitely certain is that we will spot many other species sea birds and have a nice lunch and coffee break on an island along the way.
Please klick "book", check available dates in the calendar and book directly online.
Other dates by arrangement for groups of at least 4 people. Please e-mail us at bokning@upplevelsebolaget.com!
Please let us also fix your lunch and coffee. Order for an extra cost of 200 SEK. Our paddle lunch is an organic pasta salad with shrimp, served with dressing, freshly baked bread and butter. We round that off with homemade organic cinnamon buns and an a coffee. Maybe even an espresso.
Is there anything you can not tolerate or are allergic to, we will provide another option of course. Please contact us!
Click book and check available dates in the calendar! See You!