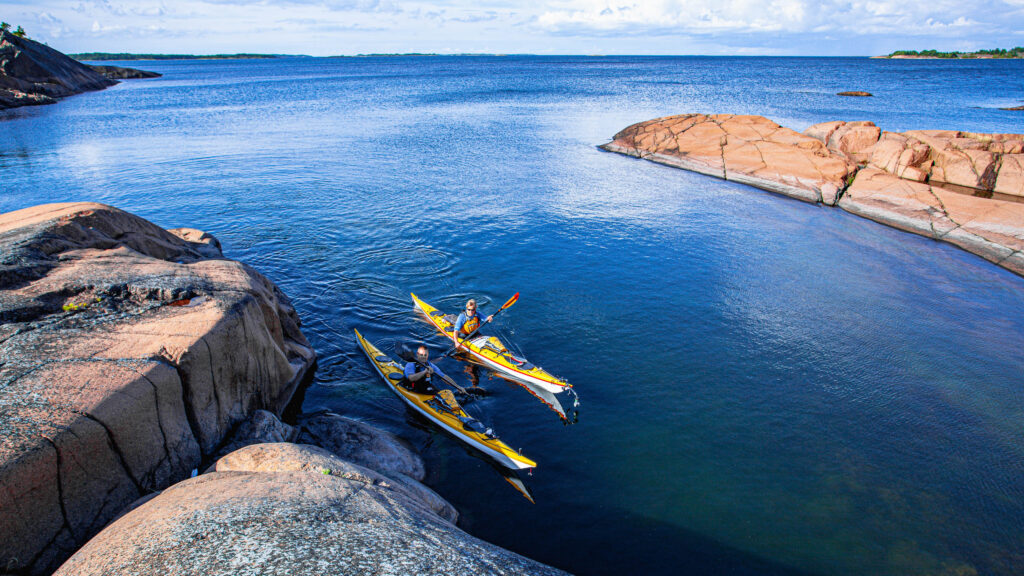 A Baltic Sea granite wonderland
An archipelago of more than 25.000 islands placed in the Baltic Sea halfway between Sweden and Finland, makes Åland a true sea kayaking paradise. With only 30.000 inhabitants, most of them living in the largest town Mariehamn, it's also likely that we will have much of the island world to ourselves.  Together with the sea birds and the sea eagles, that is.
Our Åland kayaking adventure has base camp in the north part of the island, where the paddling is as good as it gets. With our kayaks on the trailer we are free to go for the best possible kayaking conditions each day. Transfer is never long and with conditions allowing we have fantastic opportunities right at our door step, in the northern and eastern parts of the archipelago.
On amazing days trips we set out to explore the different parts of the archipelago around Åland, seeking sheltered labyrinthine waterways, distant lighthouses and smooth slabs of the red Rapakivi granite that is well known to the area. We will be offered plenty of great lunch and swimming spots in splendid solitude, with views of the horizon.
We stay in basic but genuinely charming wooden houses in the small marina of Hamnsundet, right next to the nature reseve of Boxö, with amazing paddling from the first paddle stroke. We hang out, share stories, make our breakfasts and cook our dinners together.
Accommodation is part of a double room. The houses we stay do not have enough rooms to let us have single rooms. This means that you as a single traveler will share a room with someone you do not know beforehand. This means, in turn, that you can make a friend for life. A great opportunity.
1 – 8 juli 2023 (Saturday – Saturday).
Please klick "book", check available dates in the calendar and book directly online.
Other dates by arrangement for groups of at least 4 people. Please e-mail us at bokning@upplevelsebolaget.com!
Click book and check available dates in the calendar! See You!