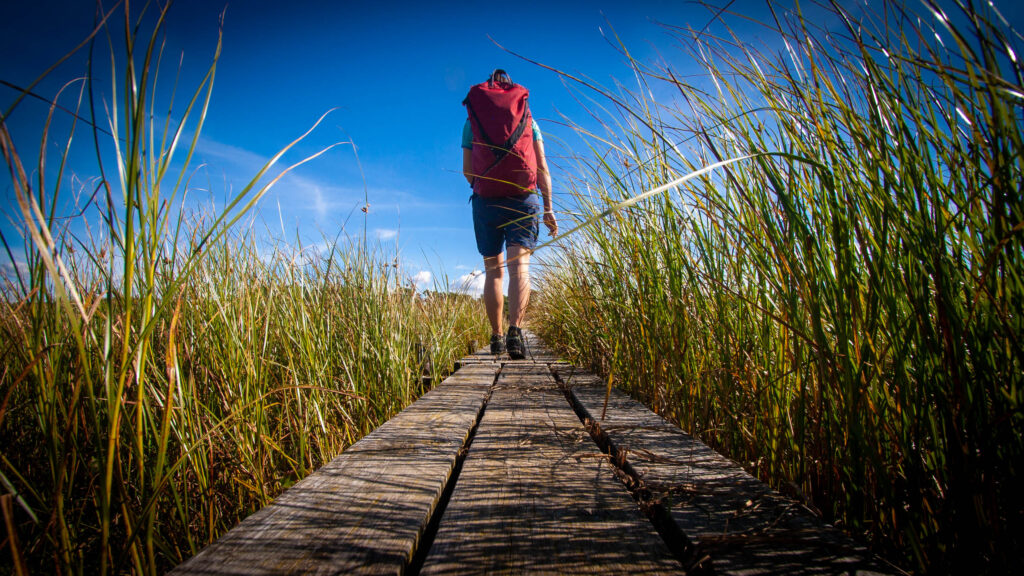 Self Guided Hiking – camping
West Sweden on foot with camping accommodation
A self guided hike allows you to explore West Sweden on foot at your own pace. We organise equipment, route planning and logistics. You get maps, hands on information and equipment. You just hike. And when you're done we will come and pick you up.
Our self guided hikes follow the beautiful Coastal Trail, joining the old, historic seaside resorts Gustafsberg, outside Uddevalla and Lyckorna, near Ljungskile. The hike combines the charming, historic resorts with beautiful natural surroundings along the Havstensfjord, where the trail is meandering its way along beaches, hills and meadows, over heights and through forests.
Choose between hiking two or three days, starting directly from our base at Gustafsbergs seaside resort and ending at the old seaside resort of Lyckorna. The 3 day option, also includes an extra loop of the trail leading to Lake Skarsjön, at the hilly inland area of Bredfjället to the east of Ljungskile. Whether you are hiking for two or three days, we think that a late lunch or coffee at the award winning restaurant, The Mussel Bar, is a great and rewarding ending of your adventure. Pick a table, relax and enjoy, and we will come and pick you up.
When choosing the camping version of your self guided hike we equip you with tent and other camping equipment. We also give a thorough briefing about practicalities, such as where to find the best places to pitch your tent. The camping alternative gives you the freedom to decide how far you want to hike everyday, but it also means that you need to carry a slightly heavier backpack.
You can start your hike any day between 1st of April and 31st of October.
Click the BOOK-button and fill in the booking form. Please note that we need to check availability for your booking. Invoice and a payment request will arrive by e-mail. When payment has reached us your booking will become definite. If you have any questions don't hesitate to contact us.
1900 SEK (2 day hike)
2300 SEK (3 day hike)